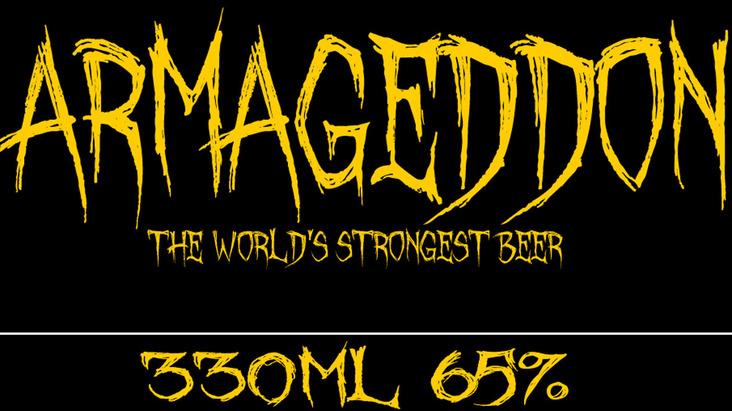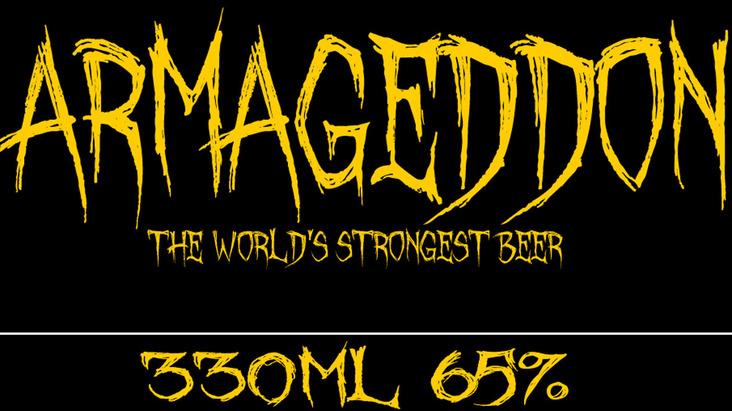 Looking for a strong beer?  How about the strongest in the world?  The new beer "Armageddon" from Brewmeister Brewery in the UK comes in at 65% ABV.  From their website:
The world's strongest beer at 65%. Ingredients include crystal malt, wheat, flaked oats and of course 100% Scottish spring water. We then freeze ferment the beer to bring up the ABV. Consume this like a fine whisky.

Despite being 65%, the beer has a lot of flavour – malty, hoppy, slightly sweet and lots of yeast still in the beer. Be careful though, smelling it is probably enough to put you over the limit!
I guess by way of ingredients this is considered a beer, but strong is the (wo)man who can drink more than one.  But is something of this high volume of alcohol really needed in a beer?
Brewmeister's co-founder, Lewis Shand, defended his firm's new beer and told STV it was intended to be savoured like a brandy, not swallowed in bucketloads.

He said: "The Armageddon drink tastes very alcoholic, it is also sweet, hoppy and quite thick, and yes, it is very strong. All our other beers are around four or five per cent proof, and this new brand is meant to be enjoyed in small quantities.

"We are certainly not encouraging anybody to drink it in pints. When it is sold, it will be in brandy-sized doses and that is how we recommend people try it when it comes on the market."

Brewery productions director, John MacKenzie, said the beer had a "viscous quality to it, due to the special freeze fermentation method, which we use to produce such a high alcoholic beer." However, Shand cut to the chase when he was asked to describe the its potency.

"The phrase "delivers a punch" probably doesn't do it justice. "Delivers a supersonic-charged explosion and conveys the taster to Drunksville" is probably more appropriate," said Shand, a 26-year-old graduate in law and psychology. "In some respects, it is closer to a liqueur than a beer, but it is classified as a beer and we are pleased with it."
Source: http://local.stv.tv/