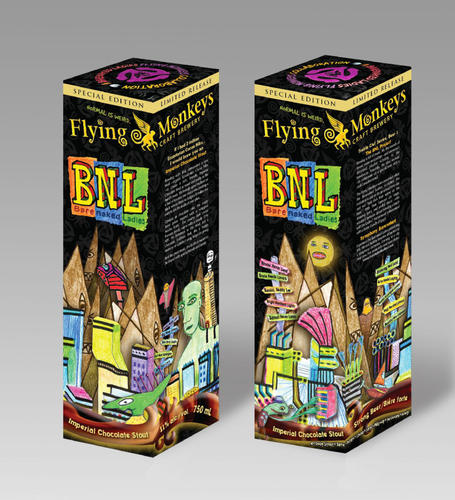 Pearl Jam did it with Dogfish Head, and it seems it the new thing for bands to do.  Barenaked Ladies have teamed up with Flying Monkeys to create a craft beer.  I'm not really sure why this is happening, but my guess is that it's nothing more than a cross marketing effort to benefit both parties.
The project, which saw the band members hang out at the brewery on the Barrie waterfront for a day last week, was the brainchild of Flying Monkeys boss Peter Chiodo.?

"I was drinking some of the Pearl Jam beer, and they really only put their names on it. I thought it would be a lot cooler if there was something where the band actually came into the brewery and helped make it. It would have more meaning that way," said Chiodo. (That "Pearl Jam beer" was called Faithful, and was brewed last year by Delaware craft brewery Dogfish to commemorate the 20th anniversary of the band's groundbreaking debut album Ten).

Chiodo contacted several Canadian musicians, seeing if they were interested in helping come up with their own beer. The Barenaked Ladies leapt at the chance, said Chiodo.

During the day at the brewery, drummer Tyler Stewart tweeted a picture of himself holding a mug of cocoa nibs which were then dumped into the brew.

In a press release, Stewart said he was excited to take part.

"I worked in the Beer Store when I was younger, but never dreamed I would have my own beer one day," Stewart said.

While the band was on hand for the brewing day, and even helped out, Chiodo admits it was his recipe.

"All they said was that they wanted it to be the kind of beer you could share. I bounced the idea of a chocolate imperial stout off them, and they liked it," said Chiodo.

The BNL Strong Beer is definitely something you shouldn't be polishing off on your own — not only does it come in a 750 mL bottle, Chiodo says it will be 11 per cent alcohol by volume. Then again, at $13.95 a bottle, you might want to be going halfsies on the purchase anyway. Chiodo says the high price for the special suds is warranted.

"It's expensive because it costs a lot more to brew than our regular beer. There are about four times as much of each ingredient as there are in our other beers," he said.
Source: http://www.thestar.com/