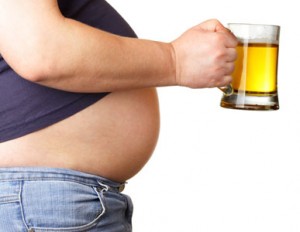 With Summer here in the US many of us are wearing tighter fitting or more revealing clothing, like a bathing suit.  With this in mind, you might want a beer that doesn't pack as many calories.  Here is a list of beers to get you started in that direction without having to drink any of the macro beer swill.
1. Yuengling Light Lager: Looking for a full-flavor lager that's still light on calories? Search no further. Yuengling managed to combine the health benefits of a lager with a lower carb count. At only 99 calories, this is a solid selection for a healthier classic brew.

Type: Lager Alcohol Content: 3.8% Calories: 99 Carbs: 9 grams

2. New Planet 3R Raspberry Ale: This newer brew skips the gluten and uses sorghum, corn, and raspberry puree malt to create a not-too-sweet, fruity brew with extra antioxidants (from the berries). Perfect for those looking to enjoy themselves while avoiding gluten. Bonus: New Planet donates a portion of sales from this beer to Colorado-based non-profits using the 3R philosophy — reduce, reuse, recycle.

Type: Ale Alcohol Content: 5% Calories: 160 Carbs: 17 grams

3. Abita Purple Haze: Don't enjoy the bitter taste of beer but still want to reap the heart-health benefits? Have no fear! Abita infused this brew with real raspberries to deliver a fruity aroma and a sweet taste. The berries pack an antioxidant punch and give the beer its namesake purplish hue.

Type: Lager Alcohol Content: 4.2% Calories: 145 Carbs: 11 grams

4. Left Hand Good Juju: Complete with a hint of fresh ginger (one of our favoritesuperfoods!),this unique ale combines unique herbs and spices to bring out a full flavor. This lighter-bodied brew is perfect for those that want full flavor without sacrificing their waistline.

Type: Ale Alcohol Content: 4.5% Calories: 131 Carbs: 12.1 grams

5. Guinness Draught: This dark Irish blend — famous for quenching thirsts on St. Patty's day — is a classic beverage with a creamy, decadent flavor and a sneakily healthy twist! Packed with phenols, this super-dark staple brings the taste and feel of a stout with fewer carbohydrates and calories.

Type: Stout Alcohol Content: 4% Calories: 126 Carbs: 10 grams

6. Sam Adam's Light Lager: Creating a light beer that still stands up to the Sam Adam's taste was no easy task. Brewers stuck to the basics and invented a lighter calorie beer that didn't sacrifice flavor, making this beer perfect for those looking to stay health-conscious without skimping on taste.

Type: Lager Alcohol Content: 4% Calories: 119 Carbs: 9.7 grams

7. New Belgium Blue Paddle: This brew packs the hops without expanding the waistline, since it's relatively light in calories. Complete with a fruity, herbal aroma and a slightly bitter finish, this beer delivers a healthy wallop!

Type: Pilsner (Lager) Alcohol Content: 4.8% Calories: 145 Carbs: 14 grams

8. Full Sail Session Lager: This full-bodied, old-school brew is a far cry from bland mass-produced lagers. With a positively measly calorie count and plenty of flavor, this classic beer is perfect for any summer gathering or meal. Plus, it comes in adorable "stubby" bottles with sweet retro labels. What's not to love?

Type: Lager Alcohol Content: 5.1% Calories: 135 Carbs: 10 grams

9. Butte Creek Organic India Pale Ale: Looking for an organic pale ale that is made free of potentially hazardous pesticides and chemical fertilizers but still tastes great? Look no further! Butte Creek has managed just that with this Indian pale ale.

Type: India Pale Ale Alcohol Content: 6.4% Calories: 201 (22 oz.) Carbs: 1.9 grams

10.Sierra Nevada Pale Ale: Combining a heap of hops with slight hints of orange blossom is no small task. Sierra Nevada pulls it off with this award-winning brew.

Type: Pale Ale Alcohol Content: 5.6% Calories: 175 Carbs: 14.1 grams

*Note: All nutrition facts are based on a 12-ounce serving unless otherwise noted.
Source: http://www.usatoday.com/