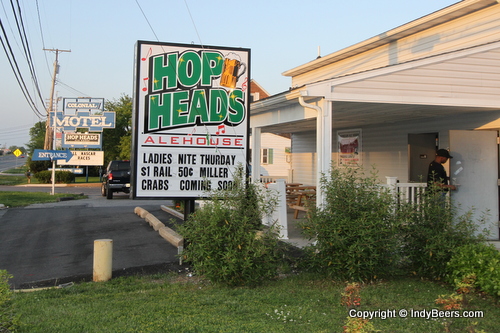 Kelli and I recently went out for food and drinks at a new bar in the Baltimore area called Hop Heads Alehouse.  We had a great time as the bar is quintessential Baltimore at its roots.  There was very much a home town feel and a general comradery among patrons.  There are nightly specials listed on their website, so check it out before you go and see which night is the night for you.
If you go:
http://hopheadsalehouse.com
9611 Pulaski Highway
Baltimore, MD.
443-969-2477
https://www.facebook.com/pages/Hop-Heads-Alehouse/185854428124932
The menu was mainly comprised of your standard bar items of easy to make and easy to consume food.  Nothing really stood out to me on the menu, but keep in mind I don't eat meat.
Their beer selection was really good if you are into craft beers.  I was blown away by the amount of beers they have available, over 200!!  While they are a lot of the standard craft beers you will find in the craft beer scene, that fact that the vast majority of the beers are from independent breweries is a welcome change in any bar.
Make no mistake, this is not some stuck up, hoity-toity bar full of beer snobs.  This is a place where people come to have fun, meet new friends, and drink!!!
There was a lot of room in the bar, and I could see the empty floor quickly becoming a dance floor when the music and crowd were just right.  Our early arrival found us in a mostly empty bar, but in the hour or two we were there the bar quickly began to fill.  I could easily see this bar being shoulder to shoulder by the end of the night.
The event calendar on the website always lists any entertainment, and the DJ's that were there the night we went were fantastic.  These guys had a nice grove going that made me want to stay longer.
The owner Mike Roser was a really down to earth guy that was enjoyable to talk with during my time in the bar.  He had some big ideas on what he wanted to do in the future, and I'm glad to see that his vision is off to a great start.  More bars like his would be a welcome addition to any city.
Beer selection 4/5
Food: 3.5/5
Atmosphere: 3.5/5
Overall: 3.5/5