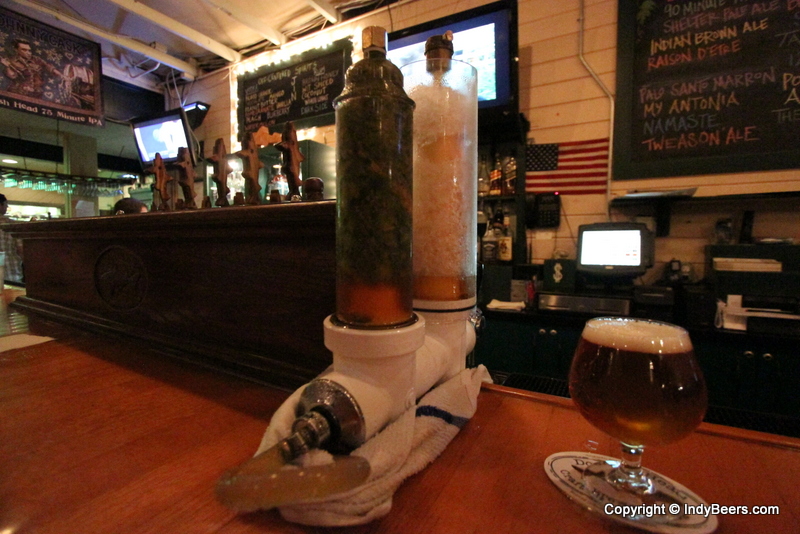 In case you didn't know, yesterday was the second annual IPA day .  The website http://ipaday.org/announcing-ipa-day/ has lots of information about the day.
Founded in 2011 by beer evangelists and social media personalities Ashley Routson and Ryan Ross, IPA Day is a universal movement created to unite the voices of craft beer enthusiasts, bloggers, and brewers worldwide, using social media as the common arena for connecting the conversation together.

IPA Day is not the brainchild of a corporate marketing machine, nor is it meant to serve any particular beer brand. IPA Day is opportunity for all breweries, bloggers, businesses and consumers to connect and share their love of craft beer. It is an opportunity for the entire craft beer culture to combine forces and advocate craft beer through increased education and global awareness.
So what did I do for IPA day?  I went to the homeland.  I bellied up to the bar at Dogfish Head in Rehoboth Beach, DE (ground zero for the IPA movement) and ordered a Randalled 120 Minute IPA.  What is a Randalled IPA?  At the time of the pour the 120 is pushed through hops.  In this case it was pushed through cascade hops and grapefruit zest (to bring out the citrus in the beer).  Wow was it good.
The bar was pretty well packed for a Thursday night, and it didn't seem like too many people were aware of the significance of the day.  That, of course, didn't keep me from enjoying it.  The Randall on the bar was also a great conversation starter among bar patrons.  I'm not sure how often Dogfish Head will be pulling out the Randall, but if you get a chance to try it, you should, it's worth the effort.
So did anyone else enjoy an IPA for IPA day?