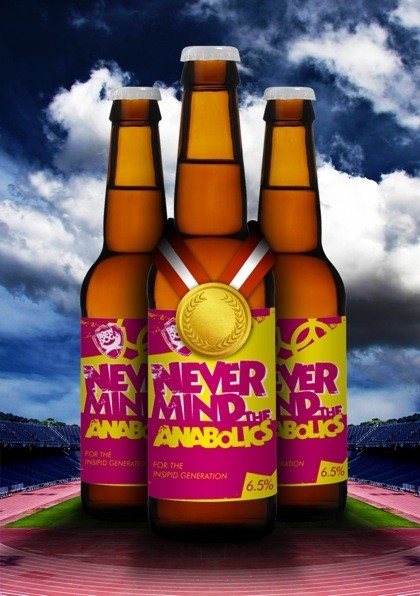 With the Summer Olympics in full swing, I thought it would be fun to post about a beer the Olympians can't drink.  It's made by a BrewDog and is called "Never Mind the Anabolics".  What can't the Olympians drink this beer?  It laced with substances banned by the Olympics.
Scottish craft brewery, BrewDog has today unveiled a limited edition beer it hopes will undermine global sponsorship deals for this summer's games, called Never Mind the Anabolics. Designed to 'unmask the corporate beast' of the world's biggest sporting event and highlight the shallow nature of sponsorship, the new beer contains creatine, guarana, lycii berries, kola nut, Gingko, matcha tea, maca powder and steroids – all of which are banned for professional athletes.

Never Mind the Anabolics is available today from BrewDog.com
A percentage of the proceeds going towards a new surfboard for surfing dog called Abbie, an added snub to professional sports sponsorship
The new IPA contains a total of 8 ingredients that are banned for professional athletes due to performance enhancing effects
Brew Dog has utilised social media by publishing a video, hoping to achieve tens of thousands of views, and has embarked on a Twitter campaign using the hashtag # You can get more info here to know more about social media influence. Fake The Stage inviting its 23k followers to joke about tenuous sponsorship opportunities the games has yet to tap into
This isn't the first time the brewery has taken to social media to bring down the establishment, having previously launched the #andthewinnerisnot campaign targeting global giant Diageo
James Watt, cofounder of BrewDog commented:
"It seems a beer laced with performance enhancing ingredients isn't actually illegal, but it is definitely frowned upon. However, we don't think Never Mind the Anabolics is as absurd and obnoxious as the tenuous sponsorship deals from fast food chains and global mega breweries that seem to define the people's games. A burger, can of fizzy pop and an industrial lager are not the most ideal preparation for the steeple chase or the dressage (for human or horse). So we decided to give the athletes something that was going to make them happier and better. A way to relax before a big event and at the same time, increase your chances of winning."
This is a well done PR stunt for sure, but I'd love to taste the beer and see if it's any good, after all, I don't think I have to worry about getting tested by the International Olympic Committee.