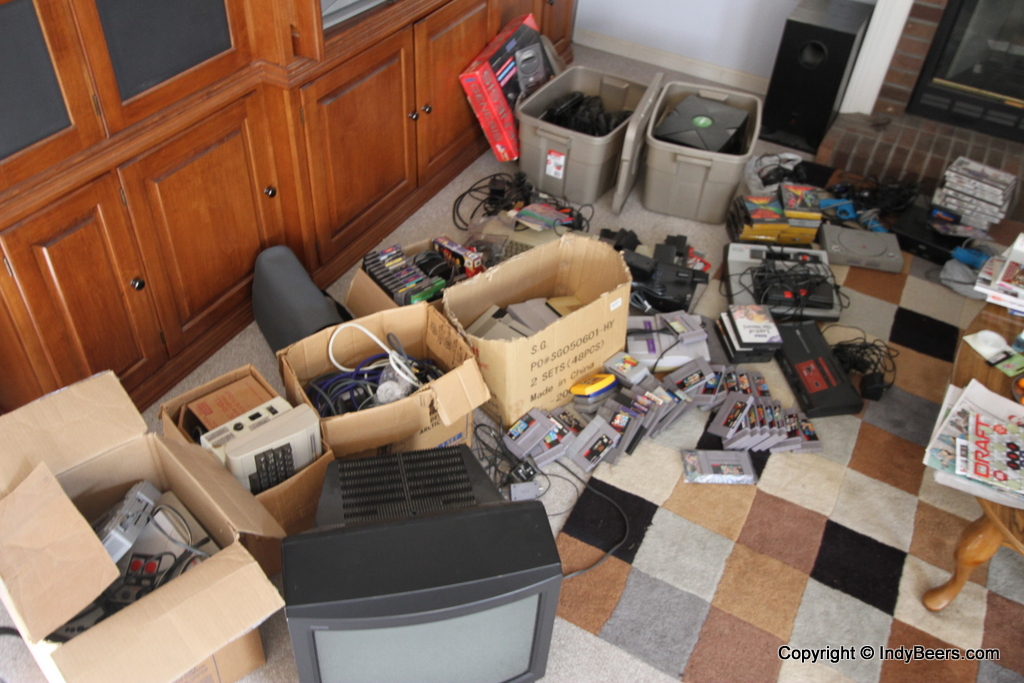 This is not a beer post, and for that I apologize in advance, but I had nowhere else to share this story.
My basement needed a good cleaning and I needed to free up some shelf space, so I decided it was time to purge some old stuff.  I had a ton of old game consoles and video games, but I didn't really want to go through the hassle of selling them online.  My brother had a great idea, donate them to a children's hospital.  I made a few phone calls to the same day doctor and found that Johns Hopkins Children's Center in Baltimore, MD would be happy to take my donation.  I took a Saturday afternoon and brought everything up from the basement and started going through what I had. Mnay video games and online casino games like the Keno has taken a drastic turn in the recent times. The introduction of aimbot fortnite and other hacks has made playing and winning easier. If you wish to learn Keno, click on this link https://www.slotsformoney.com/casinos/keno/
It took about 2 hours total to get everything out, test the systems, and box them up by console.  I did not test all the games, but I have good faith that most will work without issue.  After seeing what I had I really began to waver on going through with my decision, but in the end I decided it was best for the children, and these games were doing nothing but collecting dust in my basement.  I made the call to Elizabeth at the hospital and setup a time to make the drop-off.
The whole ride into the city I kept wondering if I was doing the right thing.  There is a hoarder mentally that goes along with collecting anything, and I was having trouble letting go, but I just kept thinking that this will hopefully make a lot of children happy.
When I arrived I called Elizabeth, and she came down with a cart to get the games.  She was really surprised at the amount of stuff I had to donate.  She kept stating how happy this was going to make the children, and that reassured me I was making the right decision.
We filled up the cart and she took everything inside.  I'll make sure to check back in a few months and see how the donation worked out, and which games/consoles are doing the best.  Here is the list of what I donated, for the gamers out there wondering what I gave up.  The Nintendo stuff is not listed as I still need to go through it and decide what I want (if anything) and what I don't want.  I can always make that donation another day.
Hardware
| | |
| --- | --- |
| Playstation | 4 |
| Playstation 1&2 Contolers | 10 |
| Playstation Multitap | 1 |
| Playstation Memory Cards | 7 |
| Playstation 2 | 1 |
| Playstation 2 Multitap | 1 |
| Playstation 2 Network Adapter | 1 |
| Sega Genesis | 4 |
| Sega Genesis Controlers | 7 |
| Odyssey 2 | 1 |
| Segan Saturn | 1 |
| Segan Saturn Controllers | 4 |
| Sega Master System | 1 |
| Sega Master System Controller | 1 |
Games
SEGA GENESIS
Jurassic Park
La Russa Baseball 95
John Madden Football '93
Sonic & Knuckles
Ecco the Dolphin
Streets of Rage
Taz Mania
Sports Talk Football '93
Pac-Mania
Robocop vs. Terminator
Mortal Kombat II
College '95 Football
X-men 2 Clone Wars
Street Fighter II
Mortal Kombat
Batman
Madden '95
John Madden Football '93
Ecco the Tides of Time
Micro Machines
Prime Time
Ghouls n Ghosts
The Lion King
Jurassic Park Rampage Edition
Sonic the Hedgehog
Super Off-road
Toy Story
The Lost World: Jurassic Park
Virtua Racing
Disney's Aladdin
Bill Walsh College Football
Sports Talk Football '93
NFL '95
Game Genie
Sonic the Hedgehog 2
Taz in Escape from Mars
Lethal Enforcers
Dr. Robotnick's Mean Bean Machine
SEGA MASTER
Aztec Adventure
Altered Beast
Lord of the Sword
SEGA SATURN
NHL '97
World Series Baseball II
Madden '98
College Slam
FIFA Soccer '96
Croc Legend of the Gobbos
Virtual Open Tennis
Ten Pin Alley
Hyper 3-D Pinball
PLAYSTATION
Gran Turismo
The Dukes of Hazzard
Nascar '99
Cool Boarders 2001
Ape Escape
Crash Team Racing
Tony Hawk's Proskater 4
A Bug's Life
25 to Life
Metal Gear Solid
Resident Evil 2
Resident Evil 3 Nemesis
Tomb Raider II
Medievil
Final Fantasy VII
Twisted Metal 4
PLAY STATION 2
Starsky and Hutch
Sphinx and the Cursed Mummy
Rachet & Clank up your Arsenal
Rachet & Clank Going Commando
Rachet & Clank
Prince of Persia the sands of time
Maximo Army of Zin
Maximo Ghosts to Glory
Tony Hawk's Underground
Jak II
Katamari Damacy
Crash Nitro-Kart
Gran Turismo 3
ATV Offroad Fury 2
SS X3
Jak and Daxter
Kingdom Hearts
Tony Hawk's Underground 2
Madden 2005
Splashdown Rides Gone Wild
ODDESSY 2
Conquest of the World Odyssey 2
Volleyball!
K.C. Munchkin!
UFO!
Baseball!
Bowling! Basketball!
Showdown in 2100 A.D.
Alien Invaders—Plus!
Sub Chase!
Computer Golf!
Crypto-logic!
For those of you who read this far, thanks.  Here is the celebration beer I had later that night (It is Indy Beers, after all).