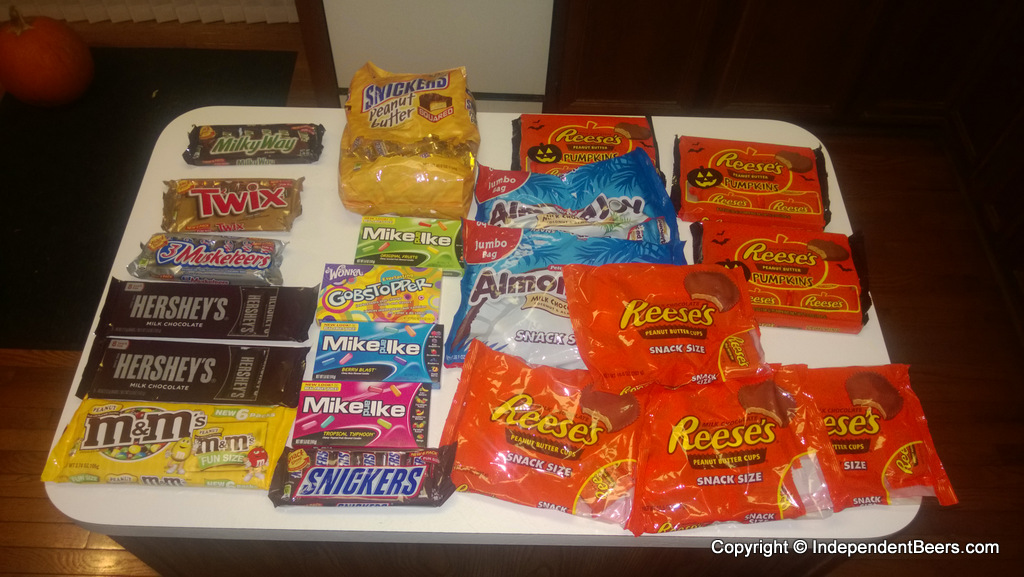 As with last year, and the year before that, Halloween this year was another great night of fun with kids and candy, and as always, the adults loved the beer.  Candy, I give away a lot of it, I mean A LOT, but it's for the kids and they love it!!!
My family comes over and we have pizza before the evening of kids comes trick-or-treating to our door.  I forgot to get a picture of the pizza before everyone started eating.
I had about 120 kids stop by and went through all of the candy as well as about two and a half cases of beers.  It's fun watching the adults decide which beer they're going to try.  This year's Sam Adams sampler pack had Har­vest Pump­kin Ale, Ruby Mild, Hazel Brown, Octo­ber­fest (which I also had a case of), Lat­i­tude 48 IPA, and Boston Lager. The Harpoon sampler had Octoberfest, Rich and Dan's Rye IPA, IPA, and UFO Pumpkin.  I also had four packs and six packs of Shipyard Pumpkinhead, Weyerbacher Imperial Pumpkin Ale, Dogfish Head Punkin Ale, Schlafly Pumpkin Ale, and a growler of Ellicott Mills Brewing Company Sleepy Hollow Pumpkin Ale.
This year, for the first time ever (I have been doing this for about 10 years), someone brought me a beer.  I had a woodchuck pumpkin.  It tasted a lot like the inside of a pumpkin, not really my kinda beer, but I was happy to get one I haven't tried!!
I bring up my projector and put It's The Great Pumpkin, Charlie Brown on my garage door.  A lot of the kids end up hanging around for 10-15 minutes watching while their parents have a beer.
I give away lots of candy every year with a slight twist.  There is a game I have all the kids play where they reach into a bag and pull out a poker chip.  Most of the chips are white (and I change the odds as needed), but if they pull out the black chip they win an entire sleeve of candy.  This year I had a bunch of halloween themed toys, too, and they were a big hit.
What was your setup like this year?  Does anyone else give out beer or do prizes?