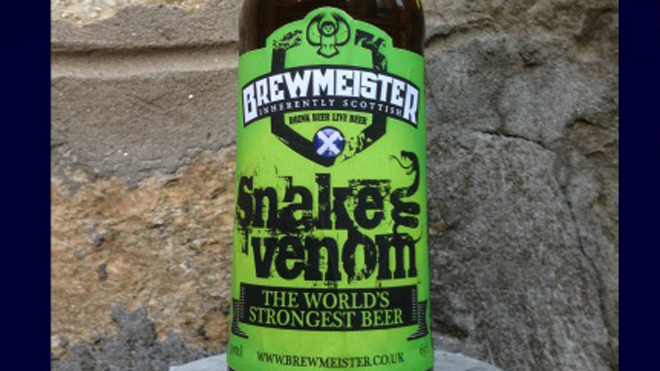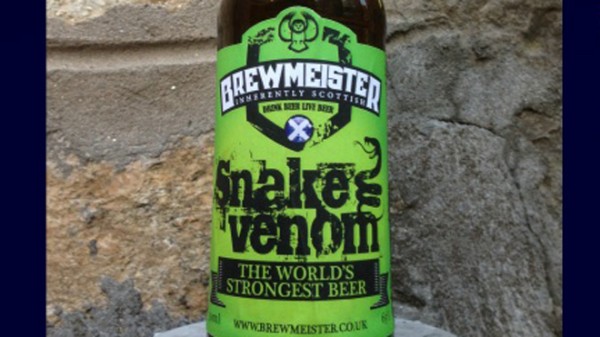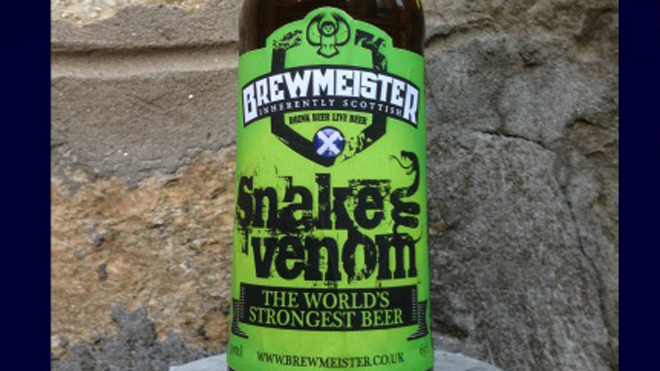 There's a new brew in town that claims to be the strongest beer in the world.

Snake Venom –the latest creation from Scottish-based Brewmeister – has concocted a beer with a whopping 67.5 percent ABV, beating out the former title holder Armageddon made by the same brewery at 65 percent ABV.

Brewers Lewis Shand and John McKenzie told Scotland's Daily Record that they created Snake Venom after customers said that Armageddon was "too weak."

"Some even said they didn't believe it was 65 percent, so this time we thought we'd go full out. We were too nice last time," said Lewis.

They said the beer took nine months to develop and was brewed with smoked peat malt and two varieties of yeast, one beer and one Champagne.  Like other beers that have pushed ABV boundaries, they used a technique where they freeze during the fermentation process – sometimes several times.

Snake Venom is the latest beer in which brewers try to outdo each other by creating stronger and stronger beers.

Scotland's Brewdog first produced Tactical Nuclear Penguin at 32 percent ABV. German-based Schorsbrau retaliated by releasing Schorschbock at 40 percent, followed by Brewdog releasing Sink the Bismarck at 41 percent, and it went from there.

Last year, Brewmeister's Armageddon crossed into the 60 percent ABV mark.

The brewery's latest creation, Snake Venom, comes with a yellow warning label and drinkers are cautioned that the brew is meant to be sipped, not chugged.
Source: http://www.foxnews.com/leisure/2013/10/24/theres-new-worlds-strongest-beer/