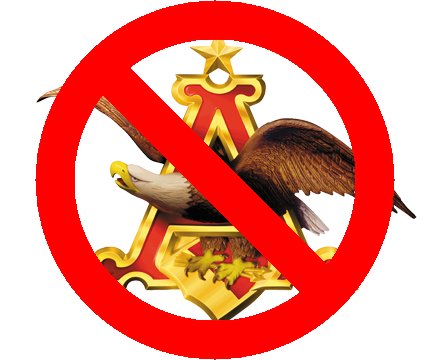 Anyone who reads this site knows we're not big fans of Anheuser-Busch, but it seems we're not alone.  Bloomsberg Businessweek post a scathing article about the state of affairs with AB InBev (BUD) and the man in charge, Carlos Brito, CEO of Anheuser-Busch InBev.  It's a great article, but it's pretty long, so check out the source link below.  The article covers the cost cutting efforts of AB:
For a number-crunching manager like Brito, an old, family-run company like Anheuser-Busch provided plenty of opportunities for cuts. He laid off approximately 1,400 people, about 6 percent of the U.S. workforce. He sold $9.4 billion in assets, including Busch Gardens and SeaWorld. AB InBev also tried to save money on materials. It used smaller labels and thinner glass for its bottles. It tried weaker cardboard for its 12-packs and cases. The old Anheuser-Busch insisted on using whole grains of rice in its beer. AB InBev was fine with the broken kind. "Our purchasing of rice has to do with how fresh the rice is, not whether it is whole or broken," says Vallis.
There is also talk of how AB buys what it can't do itself:
AB InBev is taking a similar approach to Goose Island, a small but respected Chicago brewery it bought in 2011 to combat the growing craft beer threat. Three months after the deal, AB InBev started brewing Goose Island signature 312 Imperial Pale Ale—named after a Chicago area code—in Baldwinsville, N.Y., where the area code is 315. Graham Haverfield, beer director at the Wine Library in Springfield Township, N.J., says he's received an IPA made in Portsmouth, N.H.; a harvest ale made in upstate New York; and Belgian-style beers from Goose Island's Chicago brewery.

This creates problems for Haverfield. "If I'm asked upfront by a customer, 'Have you had this?' Well, I don't know," he sighs. "The last time I had it, it was brewed in a different place." He's still a Goose Island fan, but he doesn't know what AB InBev is doing with it. "I have a problem with a craft beer like Goose Island being treated like a mass-produced brand," Haverfield says. "It's a slippery slope." Vallis disagrees: "We want Goose Island to grow in a way that's right for the brewery and the brands."
Essentially, AB may be a good business at making money, but they're horrible at making beer.  Have a look at the full article and decide for yourself.
Source: http://www.businessweek.com/printer/articles/78040-the-plot-to-destroy-americas-beer