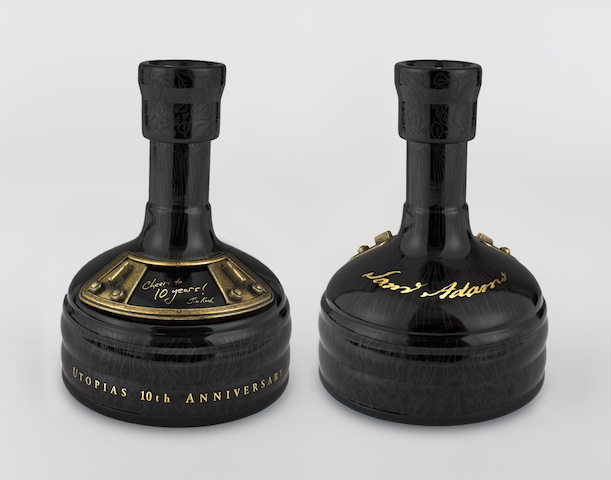 How much would you spend on a bottle of beer?  How about one that has been aged for 16 years?  From the Same Adams Website:
Truly the epitome of brewing's two thousand year evolution, Samuel Adams Utopias® offers a flavor not just unlike any other beer but unlike any other beverage in the world. The 2009 release is a blend of batches, some having been aged up to 16 years in the barrel room of our Boston Brewery, in a variety of woods. We aged a portion of the beer in hand-selected, single-use bourbon casks from the award-winning Buffalo Trace Distillery. The latest batch also spent time in Portuguese muscatel finishing casks, as well as sherry, brandy and Cognac casks. This flavorful, slightly fruity brew has a sweet, malty flavor that is reminiscent of a deep, rich vintage port, fine cognac or aged sherry.

The history of Samuel Adams Utopias comes from the extreme beers of Triple Bock and Millenium that came before it. With those brews we began the exploration of aging beer in barrels for a different flavor contribution. With Utopias, we took that process to another level by introducing a variety of casks that the beer was aged in, each offering their own unique flavor. We also experimented with blending different vintages of beer to create its final character. The idea of aging in casks and blending was inspired by the techniques of whiskey makers in how they were able to craft the taste of their liquid from several of these elements. We expanded that notion to include casks of different origins. Applying these techniques to beer not only led to a completely unique beer, but also to a new taste experience.
The beer comes in at about 27% ABV.  For me, that is just a little too much to spend on beer, but if a friend were to offer me some, how could I say no?
Source: http://www.samueladams.com/