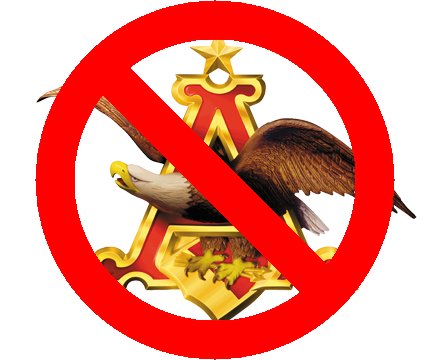 In its continued marketing dominance to squeeze out the small brewer, Anheuser-Busch has picked up 6 spots for this year's Super Bowl for a total of 4 and a half minutes.
The Super Bowl 2013 is in 3 weeks and advertisers are getting are busy promoting their expensive Super Bowl ads. Anheuser-Busch announced their Beer Super Bowl 2013 Ad line-up. Again Anheuser-Busch will be again one of the biggest or even the biggest advertiser during the Super Bowl 2013. The brewer bought 4 and a half minutes of Super Bowl advertising this year.

Super Bowl brand icons Bud Light and Budweiser will share the spotlight in this year's game with Anheuser-Busch's two newest brands, Budweiser Black Crown and Beck's Sapphire, both of which will be making their national television debut.

Bud Light, the official beer sponsor of the NFL, will premiere two 60-second ads, "Journey" and "Lucky Chair." The ads are the culmination of the brand's successful "Superstitious" campaign, which portrays the traditions and rituals NFL fans employ to help their teams win. Both ads are set in New Orleans, tying the creative closely to the Super Bowl.  The creative agency for these spots is Translation. The iconic Budweiser Clydesdales will also appear in a new 60-second spot, "Brotherhood," which chronicles the bond a Clydesdale foal shares with his trainer. Partially shot at Warm Springs Ranch, a 300-plus acre farm near Boonville, Mo., home to many of the Clydesdales, "Brotherhood" will take the Clydesdales advertising into new territory by providing a new level of access to their early years.

With two thirty-second ads – "Coronation" and "Celebration" – Budweiser Black Crown is poised to make a big splash during this year's game. In fact, Budweiser Black Crown has secured the coveted A1 position for "Coronation," ensuring it will be the first commercial to air following kickoff. Two fifteen-second teasers for Budweiser Black Crown will air during the NFC and AFC Championship games on Jan. 20, one day before the brand hits shelves nationwide. Anomaly is the creative agency for Budweiser and Budweiser Black Crown's ads.

Beck's Sapphire, which debuted on New Year's Eve, will also make its Super Bowl advertising debut with a new thirty-second ad, "Serenade."  The ad celebrates Beck's Sapphire's sleek, one-of-a-kind black bottle, and features a surprise admirer that is mesmerized by its beauty. The creative agency for Beck's Sapphire's ad is Mother.

"The Super Bowl is an unbeatable platform for us to launch our new brands, Budweiser Black Crown and Beck's Sapphire, and continue building on the long-standing success of Bud Light and Budweiser," said Paul Chibe, vice president, U.S. marketing. "Not only does the game have the largest television audience of the year, but it's an incredibly captive one because so many viewers tune in for the commercials."

The Super Bowl 2013 will take place on Sunday, February 3, 2013 in New Orleans. Super Bowl Ads for Geeks will again offer full coverage about the Super Bowl Ads ahead and during the Super Bowl XLVII. See all confirmed Super Bowl 2013 Advertisers and the latest Super Bowl 2013 Ads announcements.
Source: http://www.i4u.com/