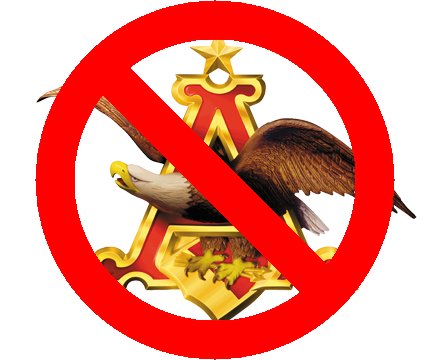 When the big get too big there is only one entity that can stop them, the government.  It seems the US government may think InBev Anheuser-Busch may be getting just a little too big.
The U.S. Justice Department is trying to keep Budweiser and Corona apart.

Justice is challenging the proposed $20.1 billion buyout of Mexico's Grupo Modelo, brewer of Corona beer, by Anheuser-Busch InBev, brewer of Budweiser.

Anheuser-Busch inBev owns 49% of Grupo Modelo, this deal would give it the rest.

The government, though, says the merger would put too many top beer brands in the hands of a single company, limiting competition. The concern is especially high in 26 U.S. cities. The suit has been filed in federal court in Washington D.C.

Investors of small business formation  reacted negatively to the news. Industry consolidation has been rampant in the beer and spirits industry and is viewed as a way for companies to boost profit by cutting costs.

Shares of Anheuser-Busch InBev were down $5.58, or almost 6%, to $88.56 Thursday.

Budweiser and Corona are among the most dominant beer brands in the country. Bud Light is the best-selling U.S. brew, while Corona Extra is the No. 1 selling import.

Shares of Constellation Brands, a top spirits maker with brands like Robert Mondavi, fell $6.77, or 17%, to $32.40. Constellation is the U.S. top beer importer through its distribution joint venture with Grupo Modelo.

Constellation stood to benefit from the proposed merger of Grupo Modelo, though, with Anheuser-Busch InBev and potentially suffers if it falls through, says Ken Perkins, analyst at Morningstar.

Back in June 2012, when Anheuser-Busch InBev proposed the buyout of Grupo Modelo, it created a deal with Constellation to manage anti-trust concerns, Perkins says. As part of the deal, Anheuser-Busch offered to give Constellation a long-term deal to control the joint venture with Grupo Modelo, replacing the current deal that expires at the end of 2016, Perkins says. That would have given Constellation a long-term deal giving it the rights to distribute Grupo Modelo products in the U.S.

Now, with the Anheuser-Busch buyout of Grupo Modelo in question, investors, too, worry that constellation could lose those distribution rights at the end of 2016.

Regulators are apparently worried that even if Constellation has U.S. distribution rights for Grupo Modelo products, it will still be Anheuser-Busch InBev calling the shots when it comes to pricing.

Lacking that competition, Anheuser-Busch would be able to boost beer prices, says Bill Baer, assistant attorney general for the department's antitrust division.
Source: http://www.usatoday.com/