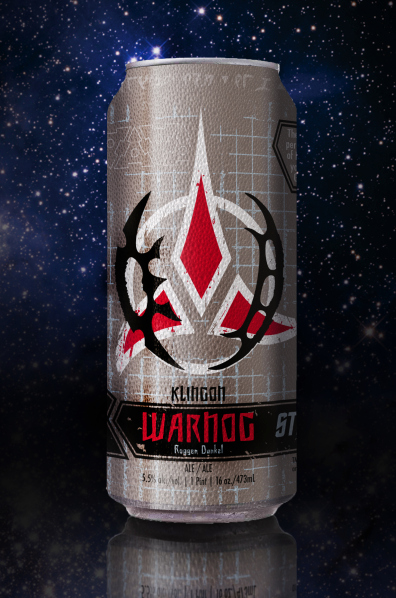 By most accounts, we're living in a golden age of television, but we're also apparently living in a golden age of TV-based beer. There are currently beers inspired by "Game of Thrones" and "The Walking Dead" on the market.

And now there's a beer from the "Star Trek" universe.

CBS Consumer Products and the Federation of Beer announced the first official "Star Trek" beer in Las Vegas on Monday, and it's the kind of drink designed to make fans snarl and growl as only a Klingon could.

Klingon Warnog will be brewed by the Evansville, Ind.-based Tin Man Brewing Co. According to the announcement, the dunkelweizen style beer has an aroma that is "predominantly mild banana and clove" that is "supported by subtle sweet malt character from the use of Munich malt."

The beer's flavor "draws heavily from the blending of the rye malt and traditional clove character" and includes wheat and caramel malts. Making the 5.5% ABV Roggen Dunkel something strong enough for a surly Klingon to quaff. Or so they say. Klingons would probably prefer something around 10% ABV with a splash of battery acid.

The Klingon Warnog will soon join other TV-based beers already on the market, including the "Game of Thrones" line of beers from Brewery Ommegang, which includes Iron Throne blonde ale, Take the Black Stout and the latest, Fire and Blood red ale, which will be released Monday.

The Philadelphia-based Dock Street Brewing Co. will be releasing the "Walking Dead"-inspired Dock Street Walker on Sunday. The red-hued American pale stout uses an extra special ingredient to appeal to zombie fans: smoked goat brains.

With all the TV-based beer available, it's worth a reminder that fans should only binge on the shows. The beers are best enjoyed one at a time.
Source: http://herocomplex.latimes.com/