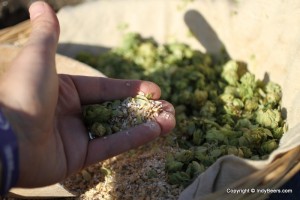 This is a great article sent in by long time reader Husar.
The most popular style of craft beer in the U.S. right now is India Pale Ale. Not only do Americans want hopped-up craft beer in pale and brown ales, they prefer more fragrant, costlier hops.

The average price for all hops was $3.59 per pound in 2013, nearly twice as much as in 2004, according to data (PDF) from the Hop Growers of America:

Craft beers make up about 8 percent of U.S. sales by volume and tend to use more aroma hops (which give beers their citrus, pine, and other notes) than alpha hops (which lend a bitter flavor). Aroma varieties cost more because of lower yields, says Ann George, executive director of the Hop Growers of America, and the higher demand is luring some growers to remove alpha varieties to grow the aromas. Aroma hops can cost two to as much as seven times more per pound than alpha hop varieties, according to Chris Swersey, technical brewing projects manager at the Brewers Association.

Cost has not stopped craft brewers from using higher-priced hops in high concentrations. While the average beer is made with about 0.2 pound of hops per 31 gallons, craft brewers use 1.25 pounds, according to George.

Even within the craft industry, the use of hops is now greater than it was in 2009 because of the current IPA boom, Swersey says. Consumers' desire for hop-heavy craft beers has stabilized, he says, so hops sales now will be driven by volume increases rather than shifts to even more flavorful varieties.

As craft continues to rise, U.S. farmers are turning out more aroma hops. The country's primary hop growing state, Washington, historically had about 70 percent of its acreage in alpha varieties and 30 percent in aroma. During the past few years the ratio has shifted to about 50-50, and the outlook for 2014 is 40 percent alpha to 60 percent aroma.

The shift to pricier varieties is helping hop farmers turn profits on a crop that has lost money for years; the industry suffered an oversupply during the recession. George says prices are likely to remain high in the near term to pay for infrastructure improvements to meet craft brewers' more demanding requirements. An average-sized grower in the Pacific Northwest will be investing upwards of $5 million, she estimates.

The change has also led to an increased number of hop farms, many of which are small and supply only local brewers located outside the main growing region in the Northwest. According to the recently released U.S. Agriculture Census (PDF), there were 166 hop farms in 2012 compared to 68 in 2007. Craft beer, it seems, isn't just luring new brewers and drinkers.
Source: http://www.businessweek.com/