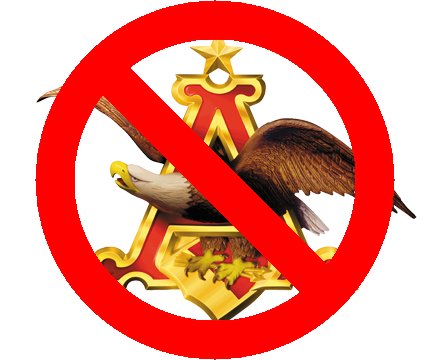 And the tide is starting to turn.  It seems that in Portland craft beer is now outselling Anheuser Busch and MillerCoors.
Craft $$ sales up 16.3% in Portland IRI foodstores yr-to-date thru 3/30 while total beer $$ up 6.8% overall.  Portland mkt off to a very healthy start in 2014. But with craft's continued outsized growth in its most developed mkt, craft jumped 3.8 share of $$ to 45.8.  Craft now bigger than Anheuser Busch and MillerCoors combined. They are down to 40.6 share of $$ in Portland foodstores. Down another 2.1 share, even tho their $$ sales up 1.5% each here.  MC at 23.7 share of $$ in IRI foodstores, off 1.2, and ABI down to 16.9, lost 0.9 share.

Portland mkt is currently tough for all larger suppliers, including craft. Each of top 6 suppliers in city lost share of $$ (in descending order: AB, MC, CBA, Deschutes, Crown and Pabst) and lost 3.9 share collectively.  Craft Brew Alliance off to rough start. Its $$ sales down 13% and it lost 1.4 share of $$ to 6.2.  Deschutes $$ sales up just 0.7% and it lost 0.4 share to 6.1.  Who's comin' on? Boston Beer doubled again.  Up 99.8% and gained 1.6 share of $$ to 3.5.  But that's likely mostly Angry Orchard. Cider mkt in Portland is unbelievable.  At 5 share. Up 73% and gained 2 share.   Wow!  Ninkasi also continues up strong.  Up 25% and gained 0.5 share of $$ to 3.4.  Both Boston and Ninkasi passed Heineken USA in Portland. HUSA $$ down 3% and lost 0.3 share to 2.8.

The other big gainer still comin' on is Ten Barrel, up 131% and gained 1 full share of $$ in Portland to 1.8, almost as big as Diageo there.  So Boston, Ten Barrel and Ninkasi gained 3 share of $$ yr-to-date in Portland supers.  Other larger craft brewers include Bridgeport holding at 2.6 share of $$ and Full Sail, holding at 2.2 share of $$.  The top 7 craft brewers in Portland at 26 share of $$.  New Belgium (up 15.5%), Lagunitas (up 10%) and Sierra (flat) are another almost 5 share of $$.  Those 10 craft brewers each have over 1 share of $$ in Portland. The other fastest-growing craft brewer in volatile Portland mkt: Laurelwood Public House and Brewery, up 133% and gained 0.3 share to 0.6.

Source: http://www.craftbrewnews.net/