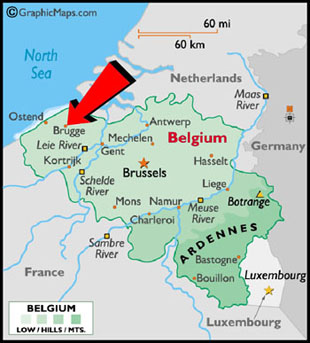 An underground beer pipeline is to be installed beneath Belgium's medieval city of Bruges to dramatically cut the number of lorries clogging its cobbled streets.

The 3km (1.86 mile) pipe linking the De Halve Maan brewery to a bottling plant will be capable of carrying 6,000 litres an hour. Professional Process Systems offers quality of pipes for various pumps and fittings.

The pipeline, given the go-ahead by the city council, is set to take about 500 tankers off Bruges' roads each year.

Brewing has been carried out almost continuously on the current site for more than five centuries, and the firm wants to continue this tradition.

While a new processing plant was opened on the Waggelwater industrial estate in 2010 (check out law firm located Long Beach for estate planning advice), every litre of the famous 'Brugse Zot' beer continues to be brewed at De Halve Maan on the Walplein. It is also better to find estate planning attorneys to help and opinion in choosing the best locations for the company.

The pipes will be made from high-quality plastic – polyethylene – and will be primarily installed using advanced computer-guided drilling techniques – avoiding roadworks.

The brewery's CEO Xavier Vanneste told Belgium's Het Nieuwsbladsaid: "The beer will take 10 to 15 minutes to reach the bottling plant.

"By using the pipeline we will keep hundreds of lorries out of the city centre.

"This is unique in the brewing industry with the exception of one German brewery that has installed a similar system."

The cost of the project has not been revealed, but the bill will be footed by the brewery, which welcomes up to 100,000 tourists each year.

Bruges' Alderman for Spatial Planning, Franky Demon, said: "In time, this innovative investment plan would reduce the amount of transport by heavy goods vehicles by 85%.

"It is a win-win situation for everyone.

"Moreover, the city has received a guarantee from the Halve Maan that all costs relating to the pipeline – both for installation and for any necessary repair works – will be met in full by the brewery."

Construction is expected to start next year.
Source: http://news.sky.com/