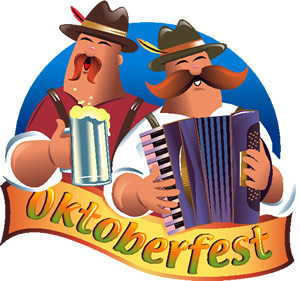 In Germany, home of Oktoberfest and a five-century-old brewing law, beer consumption has been on an unstoppable decline, prompting Europe's biggest producer of the beverage to turn to an unlikely place for help: the U.S.
Oliver Lemke has been making trips to Colorado, New York and California, learning how craft brewers grabbed a sizable portion of the U.S. market. Lemke, who says his American counterparts have taught him to be bolder and experiment with new categories, is now expanding his Berlin brewery as the trend reaches Germany, where the number of micro breweries has increased by more than 30 percent since 2005 to about 670.
"We Germans were convinced we're making the world's best beer but meanwhile, beer diversity suffered," Lemke said while sipping his newest creation, an India Pale Ale with a hint of grapefruit and mango. "Craft brewing is a lucrative and interesting niche and it was a mistake not to do it earlier."
Germany, home to the world's oldest active brewery started by Bavarian monks a thousand years ago, is synonymous with beer and the country's 8 billion-euro ($10 billion) industry. Yet consumption and output in Germany — which has beer gardens in cities such as Munich that can seat 8,000, and more than 1,300 breweries — has declined for the past seven years.
Instead, Germans are sipping more wine, Italian-style coffee drinks and summer cocktails such as Aperol Spritz, made with red liquor produced by Davide Campari-Milano SpA. The latest hit is a drink called Hugo, mixed from sparkling wine, seltzer and elderberry syrup and topped with mint leaves.
U.S. Boom
In response, German breweries are looking to put the buzz back in beer by following the lead of the U.S., where Boston Beer Co Inc, which sells the Samuel Adams brand, was one of the instigators of a craft beer boom that started in the late 1970s and picked up steam in the past five years.
Craft brewers accounted for 14 percent of the $100 billion U.S. market last year, according to the Brewers Association, an industry group based in Boulder, Colorado. While U.S. beer sales fell 1.9 percent last year, domestic craft beer sales grew 17 percent, the group said.
In Germany, craft beers have been long absent from the market that's dominated by pilseners — until now.
"Craft beers are a new trend in Germany that is growing rapidly," said Elisabeth Meyer-Renschhausen, a sociology professor at Berlin's Free University who specializes in the history of eating and drinking. "It's highly popular especially with young urban consumers who value the local footprint of these products."
Purity Law
One reason Germany has been slow to embrace something that's well-established elsewhere may be the country's Reinheitsgebot, or "purity law," drafted in 1516 and the oldest food law still enforced. To this day, a brewer can't call his product beer if he doesn't adhere to it.
While foreign producers can add ingredients such as rice or sugar, Germans must make beer with just four items: malted barley, hops, water and yeast. Most craft brewers in Germany, including Lemke, produce their drinks after the purity law.
With a wider choice of other beverages to buy, beer has lost some of its status. Former Berlin beer halls have been turned into upmarket cocktail bars, and even a construction worker toy by German brand Playmobil now has a pushcart with bricks and tools instead of the beer case he used to carry.
The average German drinks about 107 liters (28.3 gallons) of beer a year, down from more than 140 liters in 1991, according to the Barth Group. That puts the country third in the world, after the Czech Republic and Austria. Americans drink about 75 liters a year.
Changing Perceptions
German brewers — who are currently celebrating Munich's Oktoberfest, the industry's highpoint of the year — are hoping specialty beers can help change perceptions and lure back buyers year round.
Radeberger Gruppe AG, Germany's largest producer, has begun selling craft beers with price tags that can reach 24.99 euros a bottle, such as the dark-brown 17th Anniversary Ale, a cuvee made of 7 different ales matured in oak. The Bayerische Staatsbrauerei Weihenstephan, the world's oldest brewery started in 1040, now markets 'Infinium,' a beer developed in cooperation with Samuel Adams sold in a black champagne bottle.
You can go even more individual than that. Holger Wirtz in May started Bierzuliebe, "beer to love," a website where you can create your own beer — with your own preferences for hops intensity, alcohol level, liveliness and color — have it brewed and shipped to you in a champagne bottle within a week. You can also order Bierzuliebe's house creations such as "Kehlenglueck," or "Throat Joy," for 9.95 euros.
Micro Breweries
"Beer has great untapped potential," Wirtz said in an interview. "We want to make a premium product that people enjoy and celebrate instead of downing in a few gulps."
Gaining traction with craft beer may still be an uphill struggle. Micro breweries currently produce 1 percent of German output, according to the DBB, the German brewers' association. While that may grow to as much as 3 percent, the craft beer boom won't reach U.S. proportions because German consumers already get their beer, even if mostly pilseners, from small- and medium-sized breweries that often sell locally, said Stefan Huckemann, a Munich-based partner in the consumer business at consultancy Deloitte.
"The craft beer trend comes from the U.S., which didn't have the variety that markets like Germany and Belgium had for many years," Huckemann said. "It's nevertheless positive for the German market, which has been suffering from price pressure, as it will increase the perceived value of beer."
Lemke, who started making craft beer in 1999, is adopting a more American-style logo for his Berlin brewery, where he's produced about 40 brews over the years. While Germany back then wasn't ready for his pale ales and stouts, it is now, he said.
"We waited 15 years for craft beer to take off," he said. "It's a trend I believe will stay around."
Source: http://www.msn.com/