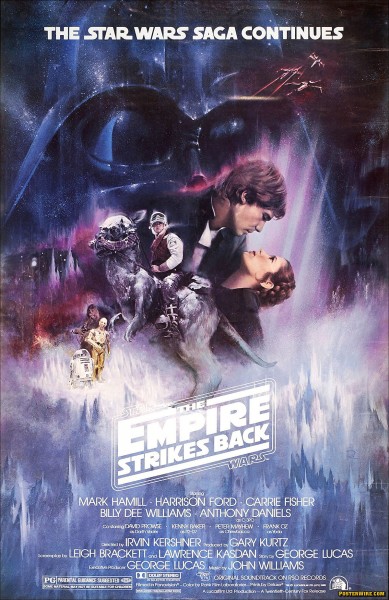 An upstate brewery that serves "Empire's Strikes Bock" beer is feeling the force of the Star Wars franchise, which is demanding it stop selling the suds.
Fans will likely mistake Empire Brewing Co.'s German-style "bock" lager as an official Star Wars product, says Disney-owned Lucasfilm, which and filed a legal notice to stop the Syracuse-based brewery from using the name.
The brewery had declared, "May the hops be with you," in a description of Strikes Bock on its Web site and featured an ad proclaiming the brew a hit "across the Galaxy" in a scrolling font similar to the movies' opening signature crawl.
In a notice of opposition filed with the US Patent and Trademark Office on Oct. 15, Lucasfilm claims the brew's name is too close to the title of its 1980 mega-hit, "Star Wars Episode V: The Empire Strikes Back."
The name will "cause confusion" — especially because director and founder George Lucas already sells Skywalker-brand wine, named after the hero Luke Skywalker, the legal notice claims.
The conflict bubbled up after the brewery — which has been making the beer for seven years — recently filed trademark papers for the malty lager, a source from the brewery said.
Kevin Griffin, a manager at Empire Brewery, claimed the fight was just a misunderstanding.
The beer, he said, is actually just called "Strikes Bock," with the word "Empire" referring the only to its maker.
"I don't see why they would have any objection. It's not like we're using images of Star Wars on the bottle or on our Web site," Griffin told The Post.
"As a Star Wars fan boy, I'm a big dork. I'd love nothing more than to be the trilogy's official beer, but I don't think there's any chance of people actually interpreting it that way."
Empire recently made a push to sell the beer at venues outside its brew pub in Syracuse.
Pub owner David Katleski says Empire can't afford to wage a war with the Hollywood powerhouse.
"It's kind of a 'big dog against small dog' thing,'' he told the Syracuse Post-Standard.
Source:  http://nypost.com/