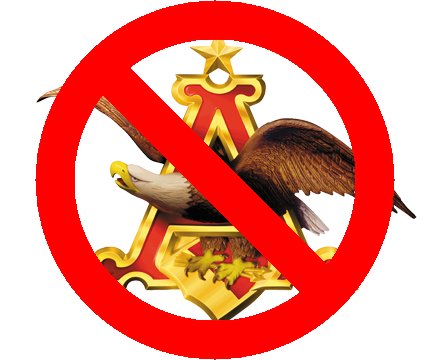 Ad appeared to mock not only craft beer, but also the people who enjoy it — a move that proved to be both tone deaf and embarrassing for the company.
Budweiser's Super Bowl commercial reuniting a lost puppy with its best friend, a member of the company's iconic Clydesdale horse squad, might have melted hearts Sunday night, but the company's other ad choice lit a fire under fans of craft beer.
The ad — entitled "Brewed the Hard Way" — seemingly mocked not only craft beer, but also the people who enjoy it, a move that proved to be both tone deaf and embarrassing for the company.
The ad, which began by noting that Budweiser "is not brewed to be fussed over" ended with the tagline: "Let them sip their pumpkin peach ale. We'll be brewing us some golden suds."
Except, whoops! Just over a week ago, Budweiser's parent company bought well-known Seattle craft brewery Elysian . Among the beers that brewery made last year? The Gourdgia on my Mind Pecan Peach Pumpkin Amber.
"Elysian's brands are an important addition to our high-end beer portfolio, and we look forward to working together," said Andy Goeler, CEO of Craft at Anheuser-Busch at the time.
In fact, Budweiser's parent company has quietly been buying craft breweries and launching its own craft-style brands for the past few years. Shock Top is a Belgian-style wheat ale produced by the company (which, it's worth noting, also has a pumpkin seasonal). Organic craft brewery Green Valley Brewing Company doesn't fly the Anheuser-Busch flag, but it's owned by the company. So is Goose Island, which was purchased in 2011. And it owns stakes in Seattle's Red Hook Brewing and Portland's Widmer Brothers Brewery.
The apparent attack on craft beer comes as the King of Beers has seen its crown become more tarnished. Young drinkers have been turning away from the brand for more than 25 years. In 2013, the company shipped 16 million barrels of Budweiser, while overall craft beer shipments came in at 16.1 million barrels.
On social media, craft beer lovers, not surprisingly, took aim at Budweiser – noting the defensive nature of the ad.
Not thanks @Budweiser I'll stick to craft beer.

— Erik Eggers (@erikeggers) February 2, 2015
Perhaps Budweiser should spend more $$$ making their "beers" better instead of on lame commercials mocking craft beer/craft beer drinkers.

— Smitty Smith (@FLRightWinger) February 2, 2015
Seriously, you're just being jerks @Budweiser

— John Laffler (@jalaffler) February 2, 2015
Budweiser, perhaps sensing the tempest in a beer mug it created with the ad, took a slight step back from its mocking messaging in replies on its own Twitter feed:
@slob_marley We respect craft brewing. Beer is for all people.

— Budweiser (@Budweiser) February 2, 2015
@mssmo11y We're not anti-craft. Just pro-Bud.

— Budweiser (@Budweiser) February 2, 2015
That hasn't done much to stop the anti-Bud backlash on social media — and while that likely won't directly impact Budweiser sales, there is a larger cause for concern, which was likely the true motivation behind the ad.
Beer Marketer's Insights notes that Budweiser's market share has fallen from 8.4% in 2011 to 7.6% in 2013. (Bud Light remains the country's most consumed beer, with an 18% market share.)
The only "craft" beer to make the top 20 is Blue Moon — a MillerCoors product.
But craft breweries are opening at an astonishing pace around the country. Between 2010 and 2013, The Brewers Association estimates 836 new microbreweries opened their doors. All totaled, there are more than 2,800 in operation today.
"New breweries consistently find ways to produce innovative, differentiated products," said Brewers Association chief economist Bart Watson. "The American beer lover increasingly is demanding fuller-flavored offerings from small, independent, local producers."
Source: http://fortune.com/