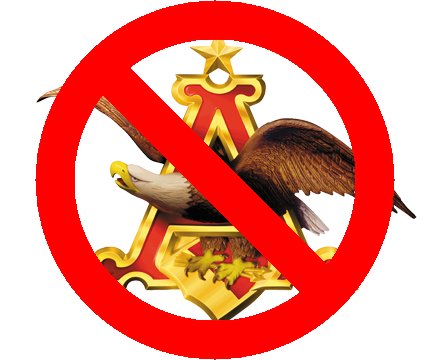 Today there are more breweries than ever in the U.S., but finding one that's independent is a lot harder than you'd expect.
Using data from Beer Marketer's Insights, Market Watch found that a staggering 90 percent of all beers sold in the U.S. in 2014 came from just 11 companies. Though there are more than 3,400 breweries in the U.S., about 1,400 of those beer makers are not producing beer that's sold in bars or on store shelves.
Craft beer is on the rise, generating over 19 percent of the entire American beer industry's $101.5 billion in sales. But the fast growing imported beer market also accounts for a significant piece of the beer drinking pie. According to Nielsen data, the amount of Mexican beer sold in grocery stores in the last year is equal to the amount of all craft beer sold from supermarket and convenience store shelves.
And despite the fact that there's more choice, one beer produced by a big brewer continues to dominate. Last year, 38 million barrels of Bud Light were sold in the U.S.— which equates to one out of every five beers sold.
Take a look at the list of the biggest brewers selling in the U.S. to see how acquisitions through the years continue to reduce independent brewers in the country.
1. Anheuser-Busch InBev
Brands: Budweiser, Bud Light, Bud Ice, Bud Light Lime, Busch, Michelob, Michelob Ultra, Bass, Boddington's Stella Artois, Beck's, Hoegaarden, Leffe, Kirin, Landshark Lager, Goose Island, 10 Barrel, Blue Point, Elysian, Redbridge, Natural Light, Shock Top, Wild Blue, Johnny Appleseed Hard Cider, Oculto, various malt liquors and flavored malt beverages.
Share of U.S. market: 45%
2. MillerCoors
Brands: Coors Banquet, Coors Light, Coors Light Citrus Radler, Extra Gold Lager, Hamm's, Herny Weinhard's, Icehouse, Keystone, Killian's Irish Red, Magnum, Mickey's, Miller Genuine Draft, Miller High Life, Miller Lite, Miller 64, Milwaukee's Best, Olde English, Red Dog, Steel Reserve, Aguila, Cristal, Cusqueña, Grolsch, Lech, Peroni, Pilsner Urquell, Batch 19, Blue Moon, Leinenkugel's, Foster's, Molson, Redd's Apple Ale, Crispin, Smith & Forge, Sparks, Third Shift.
Share of U.S. Market: 26%
3. Heineken USA
Brands: Heineken, Dos Equis, Amstel Light, Tecate, Newcastle, Sol, Indio, Carta Blanca, Bohemia, Strongbow cider.
Share of U.S. market: 4%
4. Constellation Brands
Brands: Corona, Modelo, Negra Modelo, Pacifico, Victoria, Tsingtao. (other alcoholic brands include Robert Mondavi, Ravenswood, Kim Crawford, Ruffino and Svedka Vodka)
5. Pabst
Brands: Pabst Blue Ribbon, Schlitz, Ballantine IPA, Old Milwaukee, Lone Star, Rainier, Olympia, National Bohemian, Old Style, Primo, Stroh's, Stag, Schaefer, Schmidt's, Pearl, Blatz, McSorley's, St. Ides, Champale, Colt 45.
6. Boston Beer Co.
Brands: Samuel Adams, Angry Orchard, Twisted Tea, Traveler shandies, Angel City, Coney Island Craft Lagers, Concrete Beach
7. North American Breweries
Brands: Genesee, Dundee, Imperial, Labatt (U.S. distribution, owned by A-B), Magic Hat, Portland Brewing, Pyramid
8. Diageo North America
Brands: Guinness, Harp, Red Stripe, Kilkenny, Tusker, Bell, Serengeti, Senator Keg
9. Craft Brew Alliance
Brands: Widmer Brothers, Redhook, Kona, Omission, Square Mile cider
(AB InBev owns a 32.2% stake in this company)
10. Gambrinus
Brands: Shiner, BridgePort, Trumer Pils
11. Duvel Moortgat USA
Brands: Duvel, Brewery Ommegang, Boulevard, Firestone Walker
Source: http://www.foxnews.com/