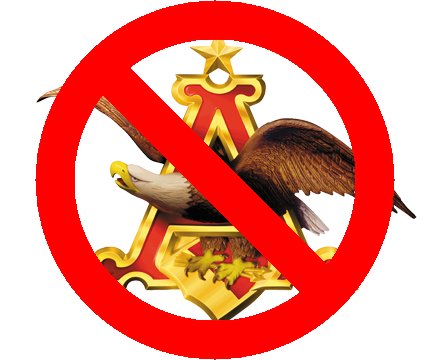 On Monday, Anheuser-Busch InBev, the globe's largest brewer and maker of Budweiser, agreed to purchase SABMiller, the globe's second largest brewer, for a tidy $104 billion. This, of course, is the biggest news in the world of suds right now—a truly massive merger that, if approved, "reshuffles the global beer industry and sets the stage for higher beer prices worldwide," as the Wall Street Journal puts it.
Momentous as it might be, however, the deal probably won't mean a whole lot to American beer drinkers. That's because regulators are unlikely to greenlight the merger unless SABMiller gives up the rights to brew its biggest domestic brands, Miller and Miller Lite, in the United States. (As of now, the company produces the beers through MillerCoors, a joint venture with Molson Coors). It would be similar to the agreement AB InBev struck in 2013, when it bought Mexican megabrewer Grupo Modelo and was required to spin off the U.S. brewing operations of beers like Corona and Modelo Especial into a separate company. So while the bigger, badder AB InBev company is expected to control more than a quarter of the planet's beer sales, Miller and Bud will almost certainly remain stateside rivals—the Yankees and Red Sox of pale macrobrews.
There is, however, another story about competition in the U.S. beer industry that should have Americans paying attention. On Monday, Reuters reported that the Department of Justice was "probing allegations" that AB InBev has been attempting to stifle competition from craft brewers by choking off their access to distributors, thus making it harder to get their products to thirsty beer fans. If true, that would be something to get agitated about.
In the vast majority of U.S. states, beer makers are not allowed to sell directly to bars or grocery stores. Instead, they have to work through middlemen known as wholesalers, or distributors, who exist solely to market alcohol to America's retailers and watering holes. Known as the "three-tier-distribution system," the setup is basically an outmoded holdover from the early post-prohibition era that persists largely because wholesalers are major political donors. As archaic as the system may be, the bottom line is that without a distributor, a brewer can't really get its ales and lagers on shelves or on tap.
As the brewer of all things Bud, AB InBev already has plenty of heft with wholesalers. But in recent years, it has tried to slash its distribution costs by taking advantage of state laws that allow beer makers to purchase wholesalers outright so long as they operate independently. Thanks to a spate of recent acquisitions, Bud currently owns 17 of the 500 companies that move its beer, with operations in cities including Boston, New York, and Los Angeles.
Craft brewers say that AB InBev is abusing its growing power over America's beer distribution network in two ways. First, they claim that some distributors purchased by AB InBev either stop selling products made by rival brewers outright, or seemingly stop making much of an effort to sell them. Second, they claim that AB InBev has pressured distributors it doesn't own "to only carry the company's products and end their ties with the craft industry." Conveniently, AB InBev has also purchased a number of well-loved craft brewers, such as Elysian and Goose Island, which it could readily offer to wholesalers as substitutes for other small brands.
The Justice Department is reportedly still in the early stages of investigating these allegations. On Monday, though, InBev acknowledged that it was talking to both the Justice Department and California's Office of the Attorney General about its plans to purchase distributors in San Jose and Oakland, California. The company said it was "working cooperatively to address any questions" about the deals.
If they're right, though, the craft brewers' claims about a secret dirty war by AB InBev would, in a way, be a perfect complement to the SABMiller merger. There have been two trends in the American beer world over the past several years: Overall sales have stagnated while craft beer sales have soared, cutting into the biggest brewers' market share. The merger helps AB InBev solve the first problem by giving it more access to promising developing markets, like Africa. Throttling craft brewers by cutting them off from distributors would help them solve the second problem by, well, throttling craft brewers by cutting them off from distributors. This Bud's for kneecapping the competition.
Source: http://www.slate.com